Cherry Hill Campus
A state-of-the-art facility for a growing community.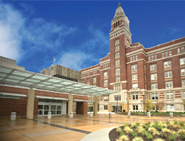 The Swedish/Cherry Hill campus is located in Seattle's historic Central District, site of Seattle's first hospital. In fact, the building exists today as the James Tower, a centerpiece on the Cherry Hill campus. This 385-bed tertiary-care center became part of Swedish in 2000, and has since undergone more than $100 million in new construction and renovations. Swedish/Cherry Hill is now one of the region's most technologically advanced medical facilities. The campus is a leader in cardiac care and a regional neuroscience stroke referral center for the Pacific Northwest.
In 2010, Swedish/Cherry Hill was named a Leapfrog Top Hospital, the most prestigious healthcare honor in the nation. Cherry Hill was also highly ranked by U.S.News & World Report in four adult specialties: Ear, Nose & Throat, Gynecology, Neurology & Neurosurgery and Orthopedics. In addition, our Cardiovascular ICU was recently designated as a Beacon Unit by the AACN.