Edmonds Campus
Bringing greater healthcare access to the community.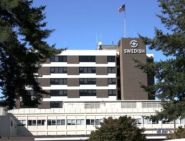 In 2010, Stevens Hospital, which had been caring for the community for 46 years, became part of the Swedish family. The Swedish/Edmonds campus gives local residents greater access to the latest medical treatments and the comprehensive services of the Swedish system. Our 217-bed facility provides a full scope of medical and surgical services, including Level IV Trauma emergency medicine, diagnostic, treatment and support services. We also provide inpatient mental health and OB services.
Swedish/Edmonds is a proud recipient of the 2011 Distinguished Hospitals for Clinical Excellence™ Award from HealthGrades, the leading independent health care ratings organization. We were also the first hospital in Washington State to receive the American Heart Association's Coronary Artery Disease Gold Performance Achievement Award.