Issaquah Campus
A state-of-the-art facility for a growing community.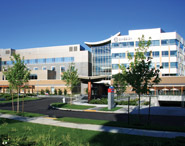 To meet the healthcare needs of Greater Issaquah/Sammamish, Swedish has opened a new medical center in the new and vibrant community of Issaquah Highlands. Swedish/Issaquah – the first hospital to be built in Washington in 25 years – was developed in two stages. This innovative, patient-centric facility is one of the most energy-efficient facilities in the region. It features a wide range of amenities for our staff, including walking trails, bike storage, retail shops and a Starbucks!
Before the Swedish/Issaquah Ambulatory Care Center moved to the new hospital in Issaquah, it maintained patient satisfaction scores in the 95th percentile or above for at least three years, resulting in its being awarded the Summit Award from Press Ganey Associates, the most coveted symbol of achievement in the health care satisfaction industry.
Our new Issaquah facilities are creating career opportunities in Issaquah and in other Swedish locations throughout Greater Seattle.