Craig,
Physical Therapist
Craig joined Swedish as a traveling contract physical therapist for six months, but he was so inspired by the rewarding environment he found in the hospital and Seattle, he decided to stay. Each day he brings his experience and compassion to help patients increase functional independence.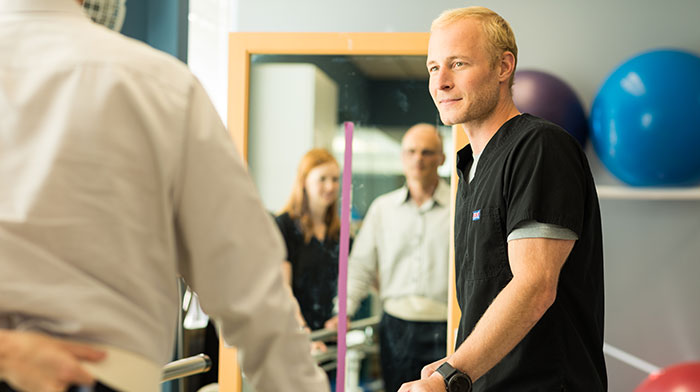 I have worked for several home health agencies, skilled nursing facilities, outpatient facilities, and adult living facilities; but this is the first time I have gone home every day feeling that I made a difference.
What inspires you most about working at Swedish?
The perspective I get each day. I am inspired by people in devastating situations who choose to work and try and overcome them. It gives me a huge appreciation for my family's health and motivates me to give my personal best.
How do you deliver or impact the extraordinary care given to our patients?
Providing understanding and confidence to a patient is one of the most impactful things that I can do to influence their success. I try to bring insight, compassion, and positivity to their treatment.
What are you most proud of regarding your work at Swedish?
Swedish offers a system where people have the support, services, equipment, and care that can promote real changes in a patients' lives. To see someone during the most difficult time in their life and watch them find strength, recover, and thrive, is what makes me proud.
Meet Our Caregivers
Determination, energy,
and the drive to achieve